The Story Of Fred
Once there was – actually more than once, but this story is just about the one time, because my goodness, a story about every time might take a long time. I mean, I can't just tell each and every story about each and every time this happened, can I? Oh, I guess I can. But I won't. Fuck that.
Anyway, there was an alien named Fred. Fred Alien. His name wasn't actually Fred. His real name was unpronounceable. To him. It was Frederick. He just couldn't pronounce that, because he was an alien. An alien named Frederick Alien. His last name was just a coincidence. It could just as easily have been Federico Extranjero, or Frederic Etranger. But it wasn't, got it? I swear, you people.
So, getting back to the story that I'm trying to tell you, Fred fed on divorce. He wasn't an attorney or lawyer of any sort – in fact, he was a vacuum salesman. He sold vacuum. Not vacuum cleaners – actual vacuum. No, not a lawyer, like I just got finished telling you. He literally fed on divorce. When humans separated, apparently they released some pheremones or chemicals or something, and that provided him sustenance.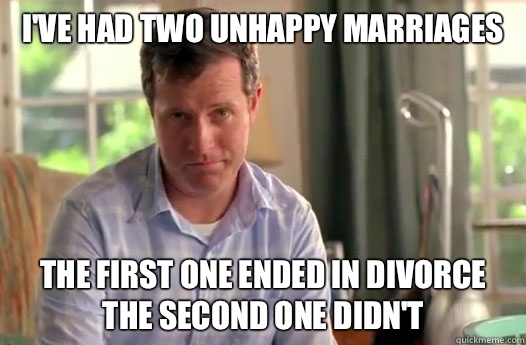 If it seems oddly specific that Fred, who as I pointed out earlier is an alien, got sustenance from the separation and loss of human beings, to wit, how the fuck did some alien species evolve with human divorce as their food supply, the answer is simple. Fred was bioengineered. He's still an alien – don't get your balls in an updraft, or however that saying goes – he was just bioengineered by aliens to live specifically on Earth, specifically in the divorce capital of the world, the United States of American Divorce. The reason for this bioengineered alien will become enrevealified to you later.
First, have you ever had joke sex? Okay, here goes – Where can you find the dumbest person in the world? In the mirror! Ha ha! Fuck you if you can't take a joke. Ah, that was good for me too.
Later…
Well, it's later! I've been timing it, for accuracy and precision, and I'm quite sure it's later. So as I was saying, these aliens engineered Fred for a reason, and that reason is to remove unhappiness. The pheremones or chemicals apparently not only derive from divorcing humans, but they perpetuate the resulting bad feelings. But not when Fred was around! Oh no! When Fred was around, the feelings or whatever got absorbed by him, and it reduced the unhappiness in the general vicinity. More was generated, but it was also absorbed. It was an effect like…. okay, you know the exhaust fan in the bathroom after someone's eaten kim chee?
The aliens were very advanced. I mean, we don't have bioengineering capabilities yet, and we would have no way to take that stuff to a distant life-bearing planet even if we did. That's pretty advanced. They had a lab inside the moon. Not, like, in the middle or something. But to save on building materials, they dug a 2 mile tunnel and exploded a bomb underground, which made a large and fairly airtight cavern with just the tunnel to the outside as the only entrance. And they dug 3 more tunnels down, and sealed them off with airlocks, and bam, airtight lab for the cost of a bomb, a laser and four airlocks. And that's where they made Fred. They spied on the Earth by temporarily hijacking Earth's satellites, all of them in fast rotation for a fraction of a second. That way, to Earth, it seemed that nothing was really wrong, but to the aliens, they had nearly continuous surveillance of Earth.
They were in the midst of bioengineering more creatures like Fred – for you see, Fred was as different from the aliens as he was from us, and the aliens were from us, and…. everyone looks different, okay? Anyway, as they were making more Freds, though they would almost certainly receive different names, they got little hints, little tips from Fred that something was wrong. They had engineered him to remove unhappiness, but as it was his food, he really had no incentive to get rid of all of it. But the aliens thought that with more Aliens, this problem would go away. And they put more down there, but Fred led them to where the food was really awesome, and it was! Really awesome, I mean! For the Aliens, I mean! Not the aliens, the Aliens! I mean!
Alien Chow
But the aliens were wrong. Fred and the other Aliens soon realized that if they removed all the unhappiness, they would soon run out of food. So what they did was subtly cause other people to get divorced. Now, you might be thinking to yourself 'Hotspur, divorce isn't the only source of unhappiness. So why didn't they cause other types of unhappiness, and why weren't the Aliens bioengineered to remove other types of unhappiness? Huh? You idiot."  Well, some of those are valid questions. Oh, good for you, you came up with some points. Bravo. Full of yourself, now, aren't you? Okay, fine – I didn't want to say this, but the aliens originally WERE going to do this very thing! So there! They saw all kinds of suffering, or at least what looked to them like suffering, and they were quite prepared to end all of it… until one night, some of the aliens came across pornography. That might have been an intended pun. But they saw people in these movies making some of the same noises, and same faces, as the people they thought were suffering. These people appeared to want to suffer in this way. They appeared to SEEK it, in fact. And the aliens, lacking the capacity to tell the difference between O-faces and real suffering, not to mention people who enjoyed pain, mistakenly reached the conclusion that this "suffering" was actually a desired human trait – or else, why would they try so hard to pursue it, seek it, experience it, or inflict it on other people? I mean, you know? Come ON! Get over yourself. Jeez.
So they just stuck with the one area of divorce. But, as I nearly started saying, the Aliens ended up causing people to split up, because otherwise, they would soon run out of divorce, and thus would have no food. Did I mention that they were temporally inserted on Earth? Oh yeah, well the aliens also had time travel, in addition to galactic travel, and they put some aliens in various points in history to remove the unhappiness from those times. In fact, at one point they influenced one of the genders to have more power, and influenced people to marry people from different cultures and different backgrounds, and influenced other people to allow some marriages and then disallow them, going back and forth repeatedly, just to generate more divorce-related Alien chow.
The aliens really meant well. They really did. But eventually, they realized their plan was actually doing more harm than good. Plus, the closer to "now" the Aliens were in time, the bigger they were getting. What would they do?
Stay tuned for the shocking conclusion of the Story of Fred!
.
.
.
The Conclusion of the Story of Fred
Okay, here's what they did. They decided to not only bail on their plan, and leave behind some tokens of technology for a few humans to find later, but to completely destroy the Aliens. The Aliens were bioengineered with self-destruct mechanisms somehow, don't ask me how because I'm not a fucking bioengineer, and they could be enboomified with just a touch of a button, or something like that. I mean, they'd probably have to push it pretty hard, not just bump up against it. Right?
So anyway, Fred Alien, being the first one down and the closest to "now", was grossly huge by this point. And so on and so forth, down to ones who had been sent back in time
to when there were just a few humans around. The aliens realized that huge explosions would hurt humans, so they just flopped everyone's positions. Fred Alien switched places with the Alien who had been sent back furthest in time, and so on, so that the very tiniest Aliens would be around the most people, and the hugest, topped off by Fred Alien, would practically be around no one. Then they pushed that button thingy, and all the Aliens exploded. The ones from "now" just made a few pops. But the ones further back made some noise. The aliens actually messed up, but with a twist. One of the Aliens blew up near a recently launched space shuttle, and one of the Aliens blew up near a Japanese city, and one of the Aliens blew up in a central Siberian forest, and several smaller ones blew up in various edible crop fields, and a pretty big one blew up in Santorini, and so on.
And Fred Alien? He blew up in the Permian. Ended the fuck out of that period. He killed 96% of all marine species and 70% of terrestrial vertebrate species. He even caused insects to go extinct. Insects! Can you believe that? The aliens, in trying to ease human suffering, and then in trying to make up for their mistake, actually caused the chain of events that led to humans existing in the first place!
And I didn't get them anything.
Edward Hotspur.